South African Flag (BuzzSouthAfrica)
South African stocks rallied for their best week since May 2009 as a wave of buying by foreign investors reflected positive sentiment toward emerging-market assets amid speculation that China will boost stimulus at an annual gathering of the nation's legislature.
The FTSE/JSE Africa All Share Index advanced 0.8 percent by the close in Johannesburg Friday, taking the weekly gain to 5.6 percent, the most since November. The local platinum mining index surged 35 percent, its best week on record. The MSCI Emerging Markets Index was set for a 6.7 percent increase. South Africa's rand gained 4.9 percent this week, the most since December.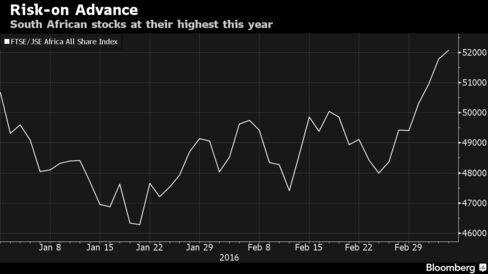 Chinese state funds intervened to prop up the stock market on Friday before an annual policy meeting, which is expected to temper yuan depreciation expectations. The February U.S. payrolls data showed an increase of 242,000 jobs from 172,000 in January, and above the 195,000 expected by analysts.
"Markets once again assess this release as being best for risk-on sentiment," Christopher Shiells, senior emerging market analyst at Informa Global Markets in London, said in a note to clients. "The data are still showing the U.S. economy is moving forward, but the Fed is unlikely to rush rate hikes as wages do not point to a big inflation push."
An increase in furniture chain Steinhoff International Holdings Ltd.'s weighting in the MSCI index contributed to foreign investors snapping up almost 11 billion rand ($703 million) in South African stocks this week, compared with a 4.5 billion rand sell-off the week before. On Tuesday, offshore buyers purchased the most South African bonds in 11 months.
Platinum producer Lonmin Plc advanced 19 percent Friday, while Anglo American Platinum Ltd. climbed 8.8 percent.  Royal Bafokeng Platinum Ltd. was 8 percent higher and Northam Platinum Ltd. rose 6.3 percent.
The rand gained1.5 percent to 15.4617 by 5:50 p.m. in Johannesburg. Yields on the benchmark 2026 bonds dropped to 9.3 percent, a decline of 12 basis points on the week. The cost of insuring the nation's dollar debt against default for five years dropped to the lowest this year on Thursday.
"If I want to put a risk-on trade, my first port of call is going to be South Africa, whether it's to buy the currency, or buy bonds or equities, notwithstanding the political risk," Grant Cullens, chief executive officer of African Alliance Asset Management Ltd. said by phone in Johannesburg. "As a non-South African, from an asset allocation perspective, South Africa is a very deep, developed, and liquid market. It's the obvious choice."
– Bloomberg
FOLLOW NEW AFRICA BUSINESS NEWS ON FACEBOOK @ New Africa Business News.com