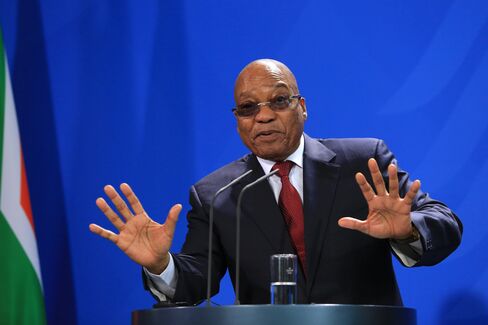 Jacob Zuma 
Photographer: Krisztian Bocsi
South African President Jacob Zuma pledged to supporters of the ruling party that the African National Congress would strive toward leveling economic divisions left by apartheid, and that this would include steps toward implementing a minimum wage.
"Economic freedom must become a reality in our lifetime," Zuma said in a speech at a rally in the northwest town of Rustenburg on Saturday staged by the ruling party to mark its 104th anniversary and spell out its policy priorities for the year. "The ANC has long set out to place our economy on a new growth path that will deracialize the economy and make a fundamental break with the ownership patterns of the past."
The ANC has won more than 60 percent of the vote in every election since it took power under Nelson Mandela in the nation's first multi-racial elections in 1994. The party will seek to extend its political dominance in local government elections that are scheduled to be held between May and August.
The election takes place against a backdrop of mounting discontent among poor South Africans over living conditions and a 25.5 percent unemployment rate. There were 129 community protests over a lack of shelter and basic services in the first nine months of last year, and a record 191 in 2014, according to Johannesburg-based research group Municipal IQ.
Zuma, 73, has also faced a public backlash after he named little-known lawmaker David van Rooyen as his finance minister, sending the rand and stock and bond markets into a tailspin. While Zuma backtracked four days later and appointed Pravin Gordhan, who served as finance minister between 2009 and 2014, to the post, the rand still hasn't recovered.
The president has also been accused of squandering taxpayers' money on a 215 million-rand ($13 million) upgrade of his private home and allowing friends to use an air force base to transport guests to a wedding. He denies any wrongdoing.
The president called for the speed of land reform, or forced land redistribution in the country from the rich to the poor, to be accelerated. Deliberations over a national minimum wage, which labor unions have been calling for, are "at an advanced stage," he said.
Zuma wants the racial profile of South African businesses to better reflect the nation's demographics. "Many boardrooms and many top-management positions remain white male-dominated — this must change," he said in remarks to thousands in the crowd wearing traditional yellow, green and black ANC colors.
The president also announced the ANC will commit 4.5 billion rand to additional student financial aid. The support follows student protests last year over a proposed increase in tertiary-education fees that the government later backed down from.
The ANC's main rivals in the elections are Mmusi Maimane's Democratic Alliance, which won 22 percent of the last national vote in 2014, and the Economic Freedom Fighters, which is led by former ANC youth league leader Julius Malema and won 6.4 percent.
– Bloomberg
FOLLOW NEW AFRICA BUSINESS NEWS ON FACEBOOK @ New Africa Business News.com