It's one game, and only one game. And it was against a side whose manager, Tony Pulis, was unsparing in his self-excoriation, admitting he'd got his tactics wrong. But after a weekend in which the three other realistic title contenders had struggled to a greater or lesser extent, Manchester City's 3-0 win at West Bromwich Albion was a rousing call to arms.
"Look," it said, "we're hungry again!"
"Look," it said, "this season we mean business again!"
"Look," it said, "Yaya Toure is back!"
All of which may be true, or none of which may be true. There were individual games in which City and Toure were exceptional last season; one game is not enough definitively to say that the problems are solved, and particularly not given the freedom David Silva was afforded in the first half.
This isn't like last season, when Chelsea beat Burnley 3-1 on the opening weekend and it was immediately apparent the difference Cesc Fabregas and Diego Costa made to them. These are largely the same players—only one new signing started for City on Monday—who were so inconsistent last season.
Still, the performance of Yaya Toure was a major positive. The first goal may end up being credited to David Silva, whose backheel diverted the Ivorian's shot into Craig Dawson and from there past a doubly wrong-footed Boaz Myhill, but the second was classic Toure, a seemingly effortless curling strike whose path into the top corner felt inevitable from long before he struck it.
This was the Rolls-Royce Toure, a player capable of the smoothest changes of pace, loping forward from a deep position, controlling midfield as easily as a father can dominate a game between a bunch of seven year olds.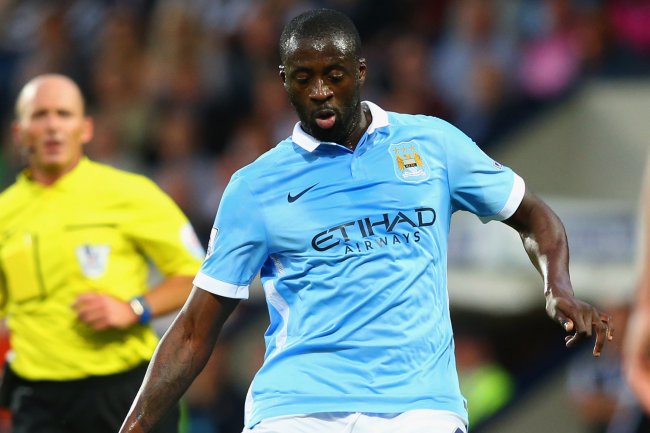 Alex Livesey/Getty Images
"I am sure we are going to see the same Yaya we saw two seasons ago," said Manuel Pellegrini (in a press conference I was at). "Last season was a strange one for him with the death of his brother and other things. I don't think he was properly focussed and we have spoken about that. But I don't think he deserved the amount of criticism he received. Maybe it wasn't his best season but he's still an important player here."
The "other things" Pellegrini referred to were presumably the destabilising comments from his agent, Dimitri Seluk, complaining about the supposed lack of a cake on the player's birthday and insisting his client was likely to leave last summer.
This year, rumours about Toure's future have been noticeably quieter. "Last season his head wasn't right and that made things difficult," Pellegrini went on. "Yaya knows what happened last season. We had a conversation and we agreed a lot of things. I think he's going to be a very important player for us this season."
Toure himself was typically bullish. "I know what I have to do and I don't care what people say about me," he said (in a mixed zone I was at). "I'm not back—I'm always there."
That, sadly, simply isn't true: There were games last season in which Toure seemed lackadaisical. And City, for all their talent, are reliant on him: When he was at his best, in December, City looked potentially champions, winning six games in a row as they pulled level with Chelsea.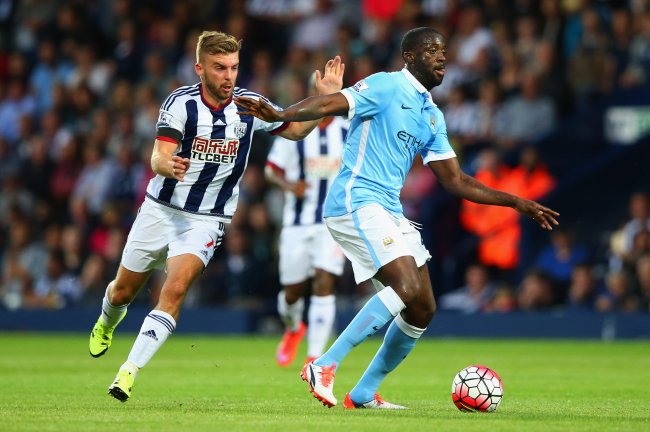 Alex Livesey/Getty Images
Once he went away for the Africa Cup of Nations, though, City's form stuttered, and when Toure returne—having lifted the Cup of Nations without playing especially well himself—he seemed weary and distracted. More seriously, there were major questions about his fitness: not in the sense that he might not be training hard—nobody questioned his basic professionalism—but in the sense that he is getting old.
At 32, perhaps he is has reached an age at which he cannot cover the ground as he used to, that he cannot any longer play as a box-to-box midfielder in an age when they've largely gone out of fashion. In that sense, his real test comes not against West Brom, and especially not when they're playing only two men in central midfield, but against a side who will apply more attacking pressure than West Brom were able to.
Vincent Kompany was much criticised last season, but at least part of the problem was that the back four was repeatedly left exposed because the screening curtain that should have been in midfield had vanished. City have to address that; it may be a matter of Toure losing some of his energy to backtrack, or it may be an issue of structure, or, most likely, it may be a combination of the two.
At least Pellegrini appears to have abandoned his fascination with 4-4-2 this season. In 18 of the 38 league games last season—and, perhaps more significantly, in the home leg of the Champions League last-16 tie against Barcelona—Pellegrini opted for a system with two centre-forwards, something that increased the pressure on the midfield.
Even when he did play with a single striker, it often seemed like he was doing so only because of the raft of injuries that afflicted his forwards in the middle of the season. The summer transfer dealings have made clear that playing with two strikers will be a rarity this season, with Edin Dzeko and Stevan Jovetic both sold.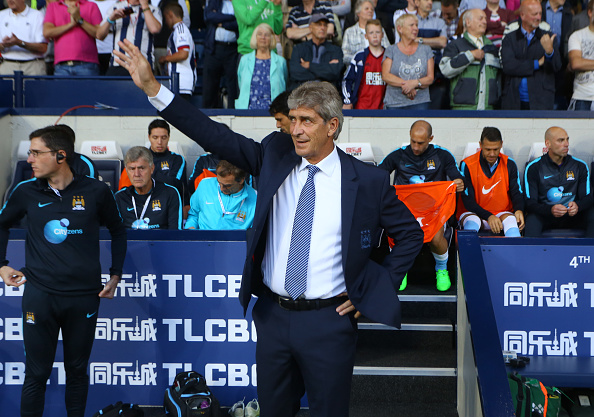 Catherine Ivill – AMA/Getty Images
That probably means 4-2-3-1 will be the preferred formation, although City could opt for a 4-3-3, something they did only once last season, in the draw at Stamford Bridge.
It may even be that Toure at times is used as the central player in the line of three, with Silva moving left, creating a sort of hybrid 4-3-3/4-2-3-1, with two of Fernandinho, Fabian Delph and Fernando holding. Sterling's arrival gives them greater flexibility in that regard: with him on the left and Jesus Navas on the right, the Sky Blues can have pace on both flanks.
But the crucial aspect is that the structure needs to achieve two key points. It must accommodate Toure and not ask him to do two jobs simultaneously. And it must, ideally, allow Silva to play centrally. That can come from him drifting in from the left, but it was the formation City used on Monday, with Toure breaking from deep and Silva shimmering centrally, that seems to offer the greatest balance.
The question now is whether City can reproduce that sort of form against the top sides, starting on Sunday with Chelsea.
– Bleacher Report
FOLLOW NEW AFRICA BUSINESS NEWS ON FACEBOOK @ New Africa Business News.com