As Liverpool enter the 2015/16 season, there is one word on the mind of supporters: goals. Quite simply, Brendan Rodgers' side didn't score (or look like scoring) enough last season.
The Reds scored 52 in the Premier League—fewer than Luis Suarez and Daniel Sturridge combined in the season before, and fewer than any other side in the top seven.
With Sturridge sidelined for much of the campaign, Rodgers lost faith in Mario Balotelli by November, never really gave Rickie Lambert a chance and refused to use Fabio Borini after he turned down a move to Sunderland.
Eventually, Raheem Sterling was used as a makeshift centre-forward for large parts of the campaign, which he ended with a rather paltry seven league goals.
This year, there are no such excuses for Rodgers, with his forward options having been overhauled. The Reds have spent £61 million on Brazilian Roberto Firmino and Belgian Christian Benteke, while Danny Ings (fee subject to a tribunal) has also arrived from Burnley—he scored a respectable 11 goals in his maiden top-flight season.
Finally, Divock Origi joins the club a year after his £10 million signing from French side Lille—where he spent the 2014/15 season back on loan.
Going from Sturridge, Balotelli, Lambert and Borini to Benteke, Sturridge, Ings and Origi (plus Firmino, who isn't an out-and-out centre-forward but has played there for Brazil) has vastly improved Liverpool's forward options. They will, surely, score more than the 52 they mustered last season.
Pre-Season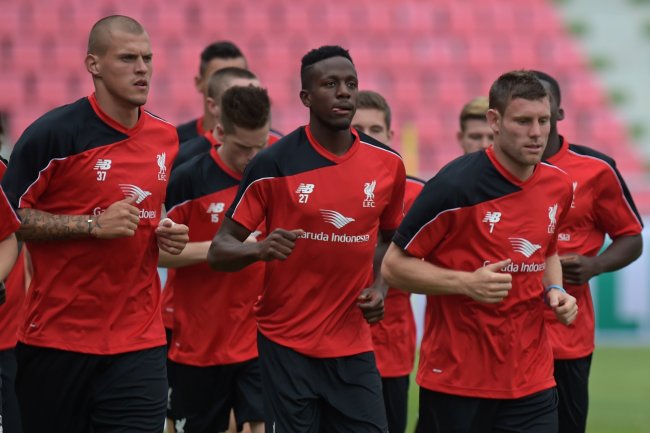 PORNCHAI KITTIWONGSAKUL/Getty Images
So where does Origi fit in? And how will Rodgers use him this season?
The 20-year-old featured regularly in pre-season, which could indicate that the player is at the forefront of the manager's mind once the competitive action gets under way—and the reason Liverpool fans are fearing Dejan Lovren being the preferred centre-back alongside Martin Skrtel this season.
However, with Sturridge still sidelined and new boys Benteke and Firmino unavailable for all but the final friendly, Rodgers only had Origi and Ings as his forwards in pre-season (plus Lambert before his move to West Bromwich Albion went through).
Origi started the opening game against Thai True All Stars, scoring the final goal and earning praise from the boss.
"I thought he [Origi] was excellent," praised Rodgers, per the official LFC website. "You can see his movement and what really pleased me tonight was his persistence.
"He had a couple of chances that he missed that he would want to score. But he kept going, he was very positive, and obviously he showed how good he is in the air. [It was] a great cross into the box and it was a good header that he scored, so we're very pleased for him."
It was a confidence boost for a player who struggled last season at Lille and was named in L'Equipe's worst Ligue 1 team of the season.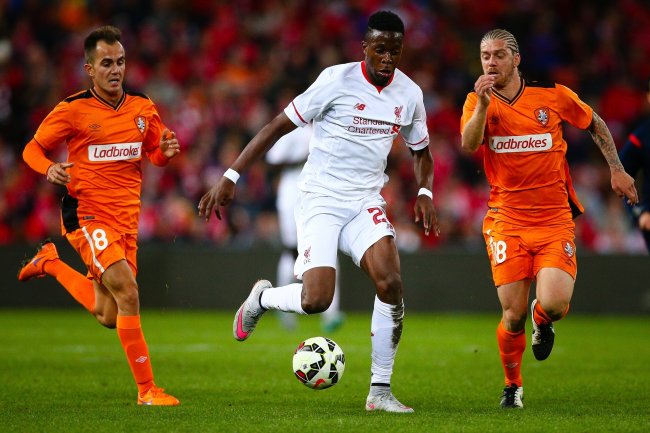 PATRICK HAMILTON/Getty Images
However, as pre-season progressed, it became increasingly apparent how raw the young Belgian is, often missing good opportunities, as noted by Jack Lusby for This Is Anfield:
"Although his [Origi's] movement and interplay should be lauded, he is far from the finished product.
"[..] his performances throughout pre-season have shown him to be a very raw talent."
Origi ended pre-season with a goal against HJK as a substitute, which will give him a boost ahead of the season itself.
That Ings started that game—with Rodgers starting close to his full-strength XI—ahead of Origi, suggests that's where the Belgian stands in the pecking order.
2015/16
Origi played frequently for Lille on the left of a front three within a 4-3-3 formation last season, while he is more naturally suited to a centre-forward role, this gives him plenty of opportunity for his debut campaign at Liverpool.
That opportunity is likely to arrive via the Europa League and domestic cup competitions, plus fleeting appearances from the bench in the Premier League. That's how Rodgers is likely to use him this season.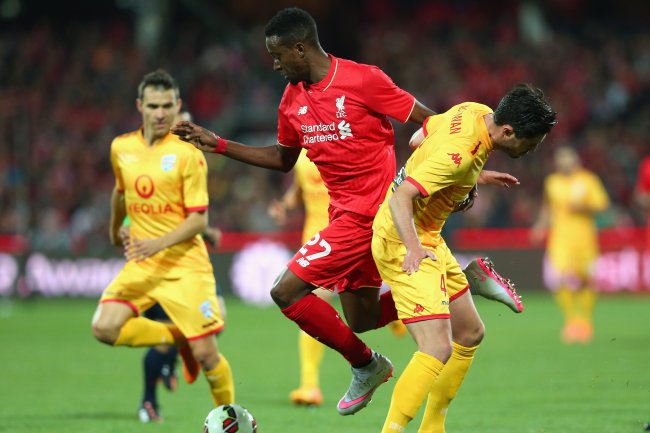 Quinn Rooney/Getty Images
Such use would be an ideal breeding ground for the Belgian and will prevent him from suffering from too much expectancy too early on in his career—which would have been the case had his loan spell been cut short, as the club considered in January.
It's quite likely that Rodgers will mix between 4-3-3 and 4-4-2 diamond during the new season, and both formations offer Origi two opportunities. He can be used either on the left or centrally within a front three, or take up one of the two forward roles within a two-man partnership.
There's no doubt that Benteke and Sturridge will be ahead of him once they are both fit and firing, but a front two of Ings and Origi in the Europa League and domestic cups is highly likely.
As for goals targets, it would be unfair to ask too much of the youngster on his first season in England, especially as his opportunities will be limited. He should be aiming for at least five goals, and anything above that would be mean a healthy first season on Merseyside—that would be more than Balotelli, Borini and Lambert managed last season!
– Bleacher Report
FOLLOW NEW AFRICA BUSINESS NEWS ON FACEBOOK @ New Africa Business News.com